Toothpaste
Crafted with the goodness of Indian recipes, Dabur Ayurvedic toothpaste is made up of potent ingredients such as Laung, Pudina, and Tomar. It protects your teeth from several dental problems like cavities, plaque, and toothache. It also helps to fight bad breath.
Read more +
Sale price
£. 3.49
Regular price
Unit price
per
Sale
Sold out
Certifications

No Added Flouride

No Artificial Colours
Additional information

Benefits:
Helps prevent plaque formation, Helps reduce cavity, Helps strengthen gums, Helps promote fresh breath, Keeps teeth and gums strong & healthy.

Usage:
In line with daily toothpaste usage. Brush twice a day, once in the morning and once before you go to bed.
View full details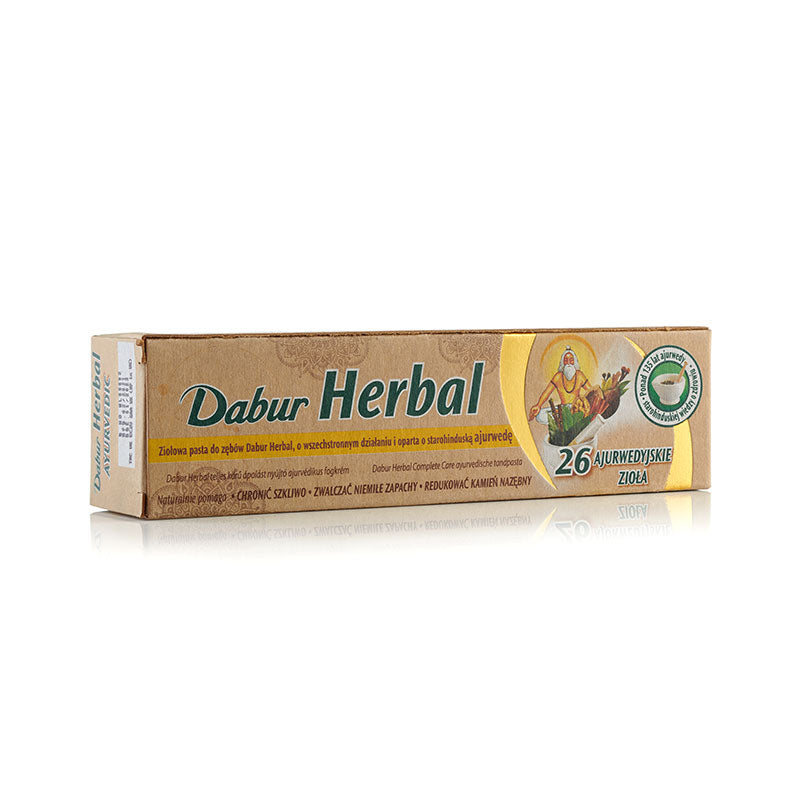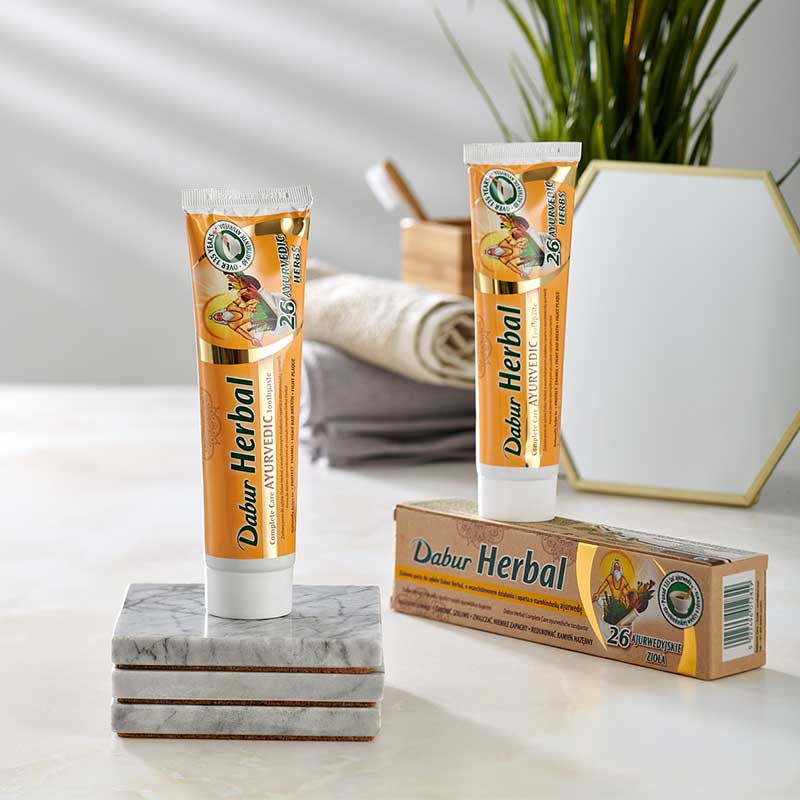 X
Calcium carbonate, Aqua, Glycerin, Silica, Sodium Coco-sulfate, Aroma (Mint Flavour), Herbal Extract (derived from : Glycyrrhiza glabra (Mulathee) root, Trachyspermum ammi (Ajwain) fruit, Acacia arabica (Babul) stem bark, Rubia cordifolia (Manjistha) stem, Cinnamomum zeylanicum (Dalchini) bark, Acacia catechu (Khair) wood, Caesalpinia sappan (Patang) stem, Piper cubeba (Kababchini) fruit, Eugenia cumini (Jambhul) stem bark, Quercus infectoria (Mayphal) Gall, Ziziphus Jujuba (Ber) bark, Barleria prionitis (Vajradanti) bark, Zanthoxylum alatum (Tejbal) fruit, Eugenia caryophyllus (Lavang) bud, Hemidesmus indicus (Anantmool) root, Mimusops elengi (Bakul) flower, Terminalia bellerica (Baheda) fruit, Punica granatum (Dalim) fruit, Salvadora persica (Peelu) root, Anacyclus pyrethrum (Akarkara) root, Azadirachta indica (Neem) bark, Piper nigrum (Maricha) fruit, Piper longum (Pippali) fruit, Zingiber officinale (Sunthi) rhizome, Juglans regia (Akhrot) shell, Prunus amygdalus dulcis (Badam) shell)), Xanthan gum, Sodium silicate, Sodium bicarbonate, Sodium benzoate, Sodium saccharin, Propylene glycol, Benzylalcohol,Cinnamal, Eugenol
A natural antibacterial, protects against odour causing bacteria.
Natural antibacterial, fights odour caused by bacteria & aids in anticavity action.
Helps soothe & cool the scalp.
Fantastic!
Very nice toothpaste, very natural ingredients and very effective, I have been using it for more than a year