Ayurvedic science is about building harmony with nature and the human body. Over centuries, the medicinal benefits of natural ingredients and herbs have helped cure diseases when consumed for a prolonged duration in appropriate doses. At Dabur, we believe in the simplicity and power of Ayurvedic ingredients and herbs.
Our entire range of products uses a mix of herbs and other plants, including oils and common spices. Ayurvedic herbs such as Tulsi, Guduchi, Ajwain, Brahmi, Shilajit and Ashwagandha, etc. and Natural ingredients such as Coconut, Almonds, Black seeds, Honey, Ginger, etc. form the soul of our products.
Filled with the goodness of natural ingredients, we deliver on a wide range of Ayurvedic products that help you maintain a healthy lifestyle and promote the holistic well-being of mind and body.
Coconut
Coconut's multitasking powers truly put it in a league of its own. Coconut is rich in antioxidants, like vitamin E that instantly moisturizes dry hair. It's also rich in fatty acids that stimulate hair growth. Coconut prevents breakage, split ends and stimulates thicker hair growth. Coconut is the best solution for volumising hair and will leave it thicker, more vivacious and luscious than before.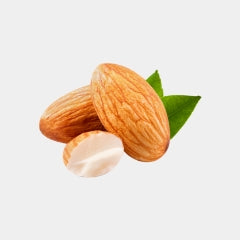 Almond
Almond oil is rich in vitamins D and E as well as minerals like magnesium and calcium. These vitamins and minerals are beneficial in strengthening your hair, and moisturize your hair from root to tip. Almond oil acts like a natural moisturizer preventing hair from going brittle, it is the perfect solution for dry hair.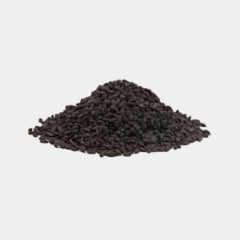 Black Seed
Black seeds come from the Nigella sativa plant and are natural antioxidants, keeping dandruff at bay, and rich in fatty amino acids that contribute to moisturizing the scalp. Blackseed works its strand by strand, ensuring hair remains smooth and full of vigour, root to tip making it excellent for complete everyday hair care!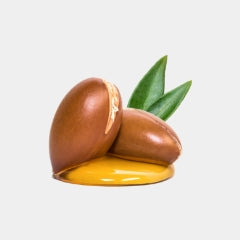 Argan Oil
Argan oil is the best moisturizer available in nature, it has been used as a beauty secret by Moroccan women for centuries. The oil extracted for the kernels of the argan plant is rich in antioxidants, omega-6 fatty acids, phenols, carotenes, and vitamins A, C, and E. Argan oil is the perfect solution to dull hair because it infuses every strand of your hair with healthy oils and traps in the moisture, giving your hair exotic shine and softness!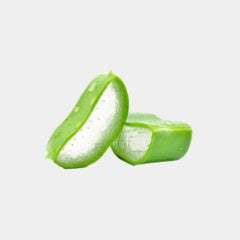 Aloe Vera
Aloe vera has been used to treat hair loss since ancient Egyptian times. It contains enzymes that promote hair growth and eradicate dead skin cells on the scalp. Aloe vera's properties balance the pH levels of your scalp and provide your scalp with the essential moisture and balance needed by your roots to grow healthy and strong. Aloe vera is the perfect solution to minimise hair fall.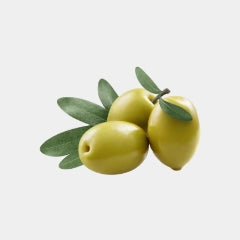 Olive Oil
Olive oil has long been used as an effective way to promote hair health. Rich in antioxidants, and vitamins A and E. Olive oil strengthens hair, prevents hair loss, keeps the scalp healthy, and eliminates dandruff. Olive oil does wonders when applied to the scalp, it increases blood flow to the scalp which in turn promotes hair growth. Olive oil does wonders for mending frizzy hair!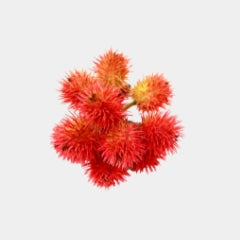 Castor
Castor an age-old remedy long used to reduce hair fall - it moisturizes the scalp, combats dandruff, leaving your hair smooth and shiny. It's rich in ricinoleic acid, a type of fatty acid that contains anti-inflammatory, anti-fungal and anti-bacterial properties - a perfect solution for a problematic scalp. It also has an impressive vitamin E content,plenty of Omega-6 and Omega-9 fatty acids - all of which are great for your tresses! Castor is a great solution for thinning hair as it promotes thicker hair growth.
Citrus Lemon
Packed with nutrients such as citric acid and vitamin C, lemon has long been used to improve hair texture and boost hair growth through boosting collagen production. Its citric zest prevents hair fall by tightening hair follicles, and its anti-fungal properties help maintain oil balance in the scalp. Lemon is the best solution for treating dandruff and will cure your scalp of flakiness!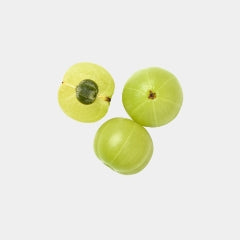 Amla
Amla has great benefits when applied to the hair and is highly regarded as an ayurvedic herb. Having high levels of vitamin C, it adds lustre, treats dandruff, prevents premature greying and improves hair texture. A rich source of fatty acids, amla gives your hair some deep conditioning and leaves it stronger than ever.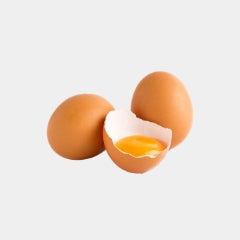 Egg
Did you know an egg contains a whopping 8.3g of protein? Which is why for centuries, eggs have been used as a remedy for damaged and dry hair. Eggs are rich in keratin protein and also contain vitamins A, D, E, K, selenium, calcium, magnesium, potassium, phosphorus, iron, copper and zinc, as well as a host of B Vitamins, which are essential for hair wellness. Vitamins B1, B2, and B5 are good for flexibility, strength and overall wellness of hair. Egg is the best solution for damaged hair as it rejuvenates and moisturises it!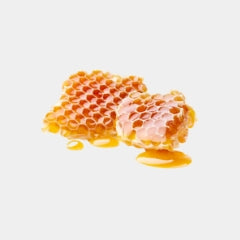 Honey
Honey is extremely effective for dry hair and takes in the moisture from the air sealing it into your hair. It leaves hair softer and silkier and is excellent for stimulating hair growth. Using honey regularly will result in stronger shiner hair. Honey is ideal for moisturising dry hair!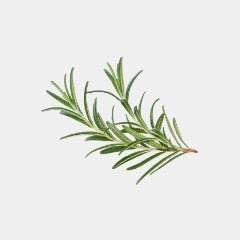 Rosemary
Native to the Mediterranean region, Rosemary is an excellent healing herb. This woody perennial has anti-inflammation and antioxidant benefits. Rosemary oil is regarded as an effective hair tonic and massaging it on the scalp helps stimulate blood circulation. Two of the many purported benefits that rosemary oil can provide are stimulating hair growth and mitigating hair loss.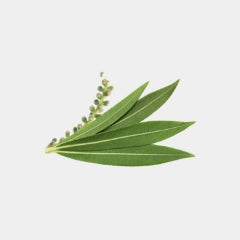 Teatree
Tea tree oil fights dandruff and hair loss. A natural antifungal and antibacterial oil, tea tree oil heals scalp irritations and infections. Using tea tree oil regularly also prevents the build-up of product and dead skin, keeping your hair strong and moisturized. Additional benefits of using tea tree oil include improved hair growth and texture. Tea tree oil does wonders in reviving your hair health leaving it lush and vivacious.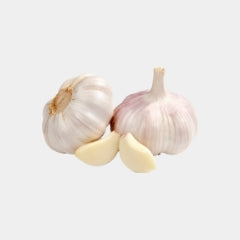 Garlic
For many years, beauty enthusiasts have been benefiting from Garlic's excellent medicinal and ayurvedic qualities. Garlic fights dandruff and decreases hair fall. The selenium in garlic provides Vitamin E to hair, ensuring there is less breakage and faster regrowth. Garlic's goodness does wonders in repairing and restoring weak brittle hair - it will bring vitality back to your locks.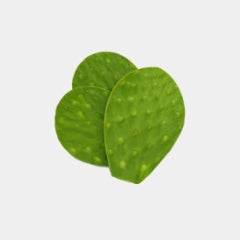 Cactus
Cactus is famous for storing water, additionally cactus contains seventeen amino acids and antioxidants that can prevent damage to the hair, from the sun. It coats the hair with the same layers of protection as a cactus plant. Thereby, trapping and retaining moisture, making it a perfect solution for hair fall. Cactus extract also prevents hair loss, making it the perfect solution to hair fall while making hair stronger and thicker.
Henna
Henna has been used on hair for centuries. It adds conditioning and nourishment to your hair by nourishing your tresses from deep within. It cools your scalp while keeping itchiness at bay and eliminates dandruff. Henna also boosts hair growth, reduces hair fall and is great for naturally colouring hair. Henna is the best solution for protecting and maintaining long-lasting hair colour.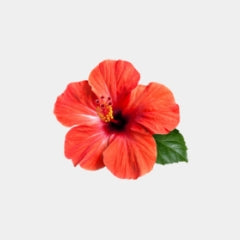 Hibiscus
Hibiscus stops hair from greying prematurely, prevents hair fall, and reduces dandruff. It cools and soothes your scalp and acts as a natural conditioner while moisturising your hair. Hibiscus is an excellent solution for revitalising lifeless hair!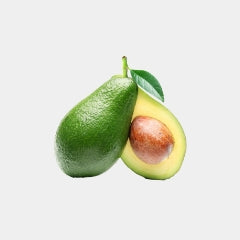 Avocado
Avocado has been used for hair care since ancient Egyptian times. The fruit is rich in vitamins A, D, E and B6, proteins, amino acids, magnesium, folic acid, copper and iron. Avocado's monounsaturated fatty acids and antioxidants penetrate deep into your scalp and hair shafts. Avocado is a true superhero when it comes to scalp therapy as it does wonders in rejuvenating and moisturising a dehydrated scalp. It's also excellent for de-frizzing your hair!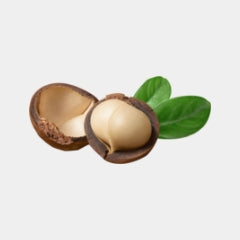 Macadamia
Macadamia contains calcium, iron, magnesium, phosphorus, sodium, and copper - all essential for healthy hair. It's exceptionally high in fatty acids that are easily absorbed into your hair shaft. Macadamia adds vitality and shine to your locks while adding moisture to your scalp. Macadamia oil is perfect for calming down frizzy hair, de-tangling your hair and making dull hair vivacious!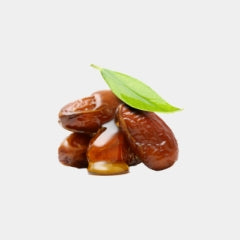 Jojoba
Native to the deserts of Arizona, Mexico and California, the oil extracted for the Jojoba plant has numerous benefits for hair care. It's rich in vitamins and minerals including vitamin C, B and E copper, and zinc, that help nourish the hair. Jojoba is excellent in moisturizing hair, preventing dandruff and hair loss, and promoting thicker more voluminous hair!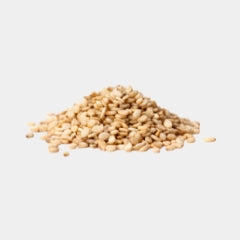 Sesame
Sesame is packed with essential fatty acids including omega-3, omega-6 and omega-9 that promote hair growth. A regular massage with sesame oil soothes and penetrates your scalp, increases blood flow and decreases flakiness and clogging. Sesame protects your hair from harmful UV rays, prevents your hair from greying and strengthens your strands root to tip!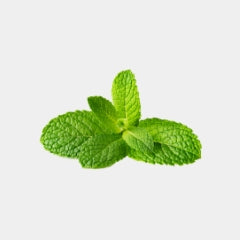 Mint
Mint is very high in carotene and antioxidants that offer antifungal properties to rid your scalp of dandruff whilst keeping up to optimum health! Mint is an excellent fix for oily hair and will leave your hair and scalp minty-fresh!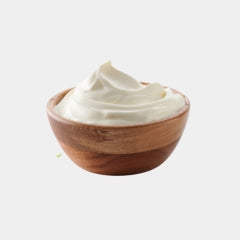 Yogurt
Yoghurt is a fabulous natural hair care ingredient because it's rich in vitamins and fatty acids essential for hair health. Its antifungal properties eliminate dandruff, while it also helps balance the pH level of your scalp, minimising sebum and clogging. Its natural cooling helps soothe your scalp leading to well moisturised frizz-free hair!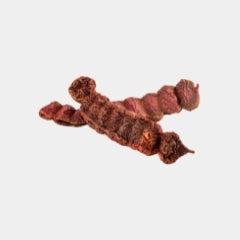 Shikakai
Shikakai is a popular Ayurvedic herb found in central India and used as a hair care ingredient for centuries. It's known as the hair fruit because of the numerous benefits it provides to your hair. Shikakai is rich in antioxidants and vitamins A, C, K and D, all essential to nourish healthy hair. It soothes your scalp by maintaining its pH balance, Shikakai's antifungal properties fight off dandruff and follicle-clogging, and its vitamin C content helps boost collagen in your scalp which leads to hair growth. Shikakai is a natural cleanser that will make your hair shine!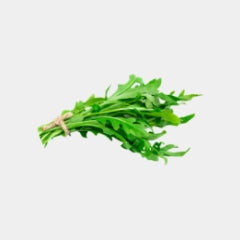 Ghergir
Ghergir, rocket or arugula is a small spicy leaf with numerous hair benefits. Packed with nutrition, ghergir is rich in vitamins and macro elements that help make your hair stronger and thicker. It helps rid your hair of dandruff, is a great cure for dry hair and helps stimulate hair growth. Rubbing ghergir oil into your hair is an excellent way to prevent hair fall!