Wellness
Dabur Chyawanprash is a tried and tested Ayurvedic formulation of over 41 Ayurvedic herbs that aid in immune system boosting. The product is made from natural ingredients in accordance with an authentic ancient Indian recipe. People of all ages can benefit from it, including children, adults, and the elderly.
Read more +
Sale price
£. 3.89
Regular price
Unit price
per
Sale
Sold out
Certifications

Ayurvedic Formulation
Additional information

Benefits:
Strength from Within

Usage:
Serving suggestions - 1 teaspoonful twice a day, traditionally taken with warm milk or by itself. May also be used as a bread spread. do not exceed the stated recommended daily dose. Should not be used as a substitute for a varied diet.

Storage Instructions: Keep out of the reach of young children. Suitable for vegetarians. Not suitable for diabetics. Store in a cool, dry place. After opening, use within 10 weeks.
View full details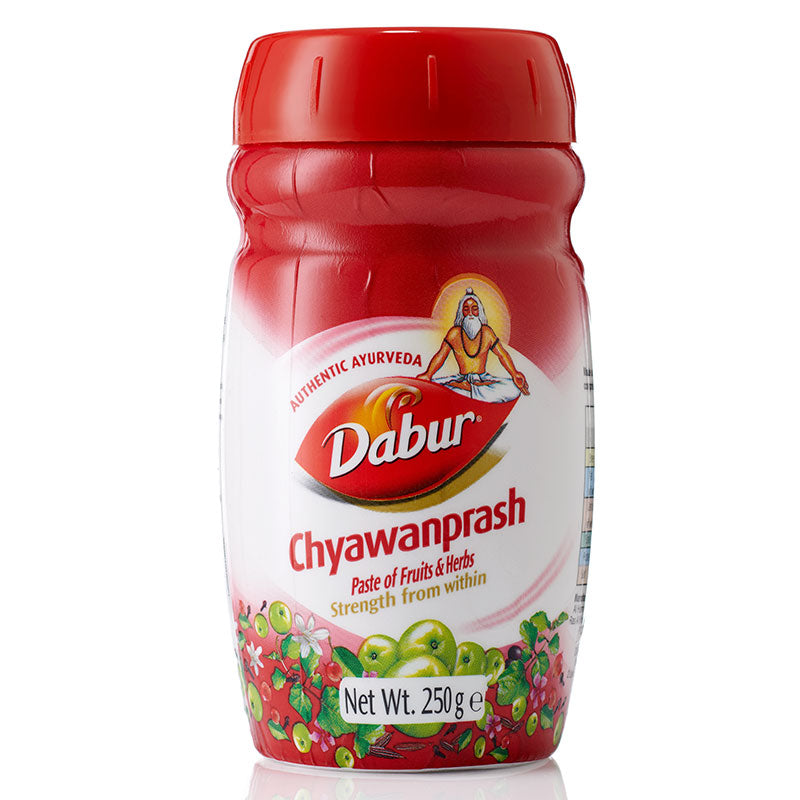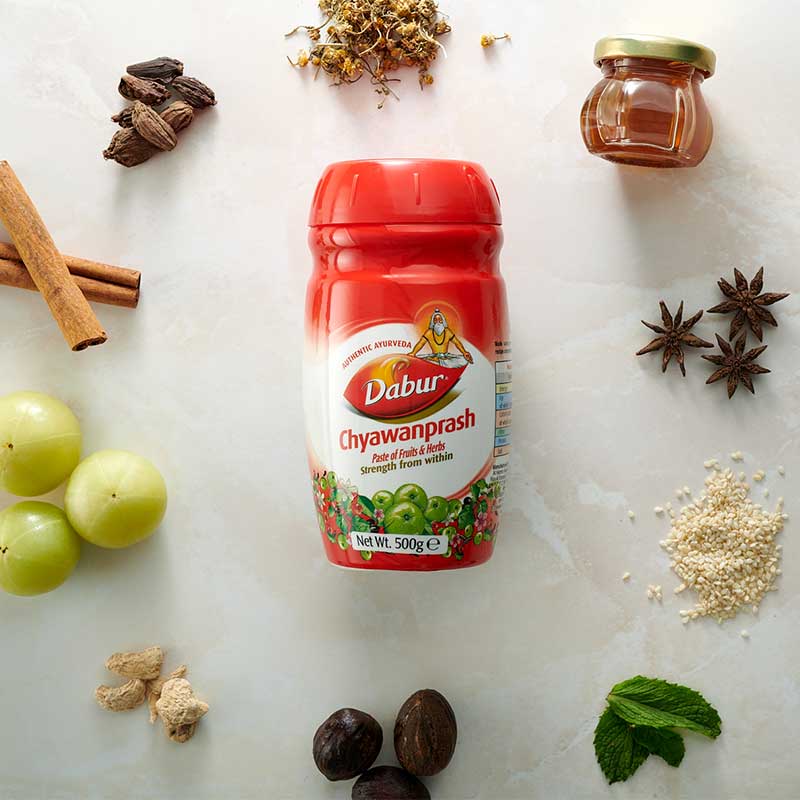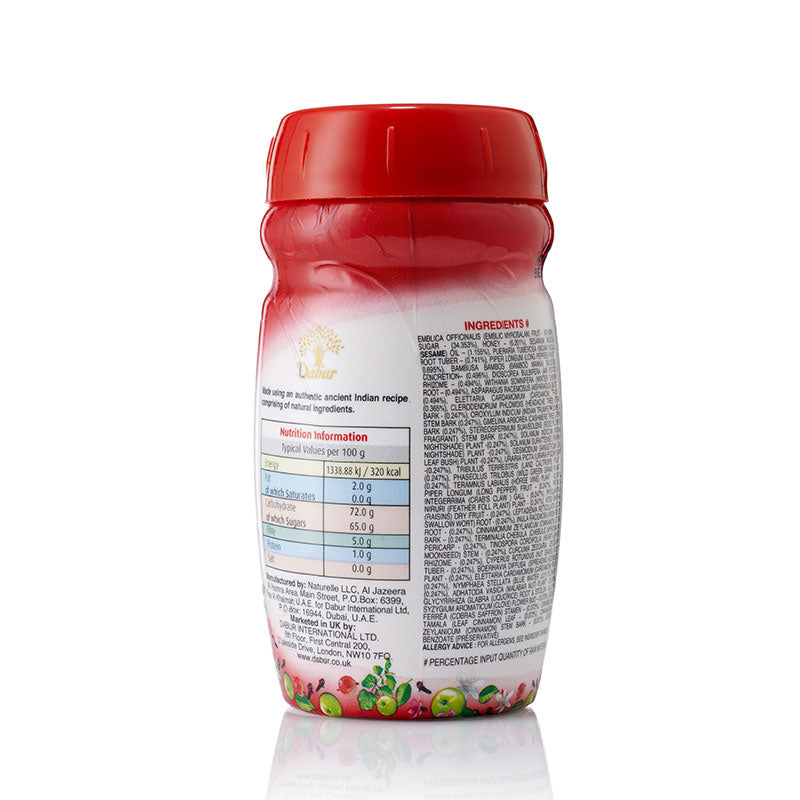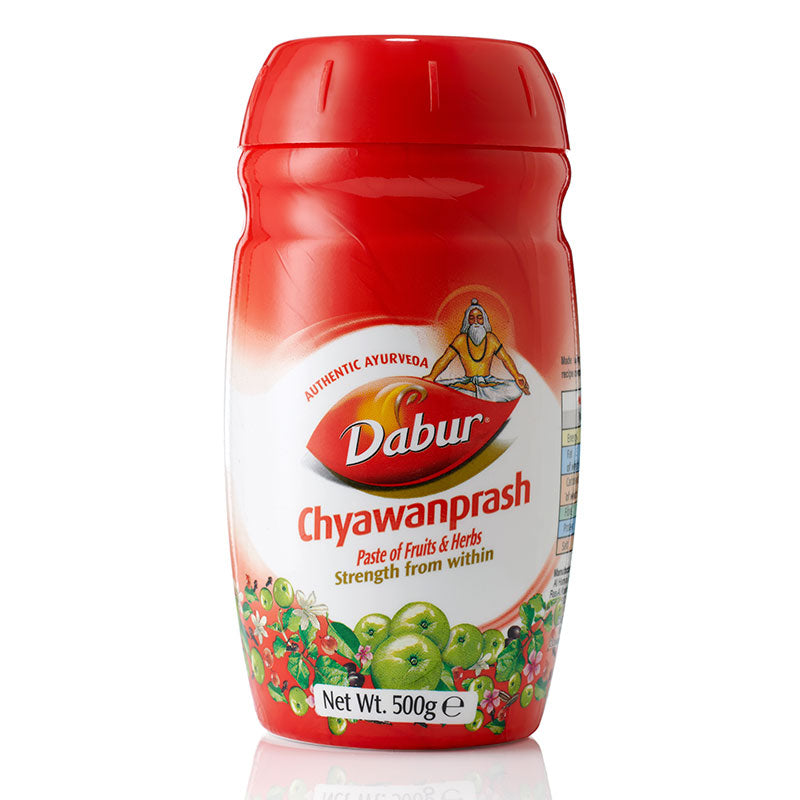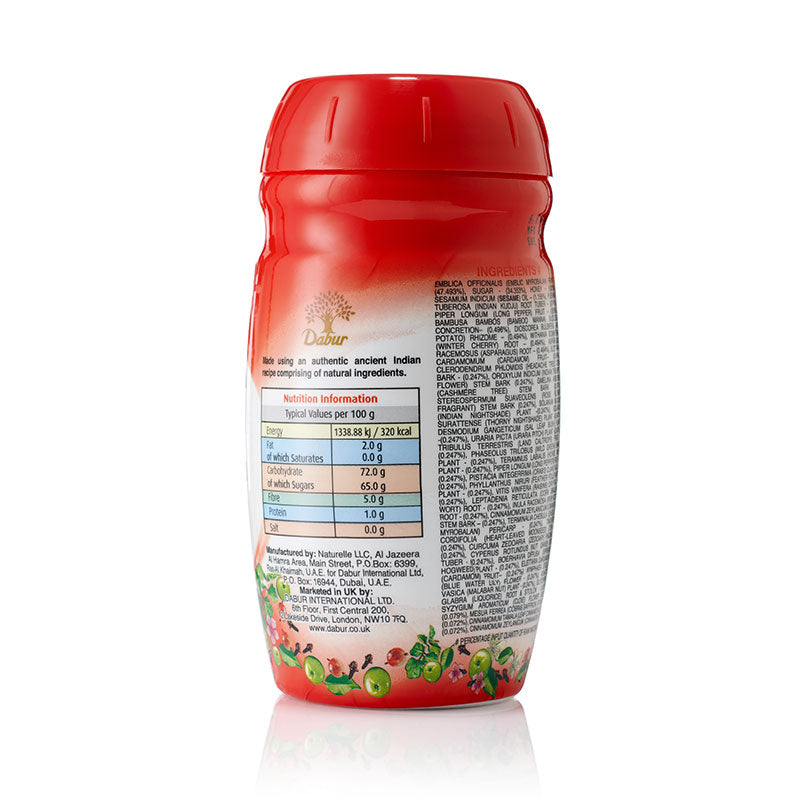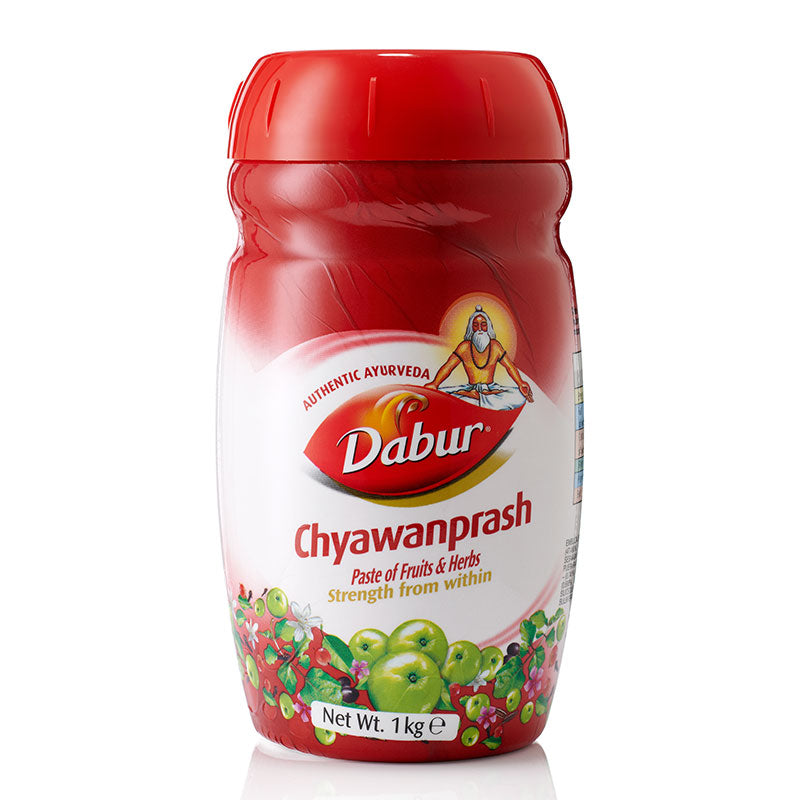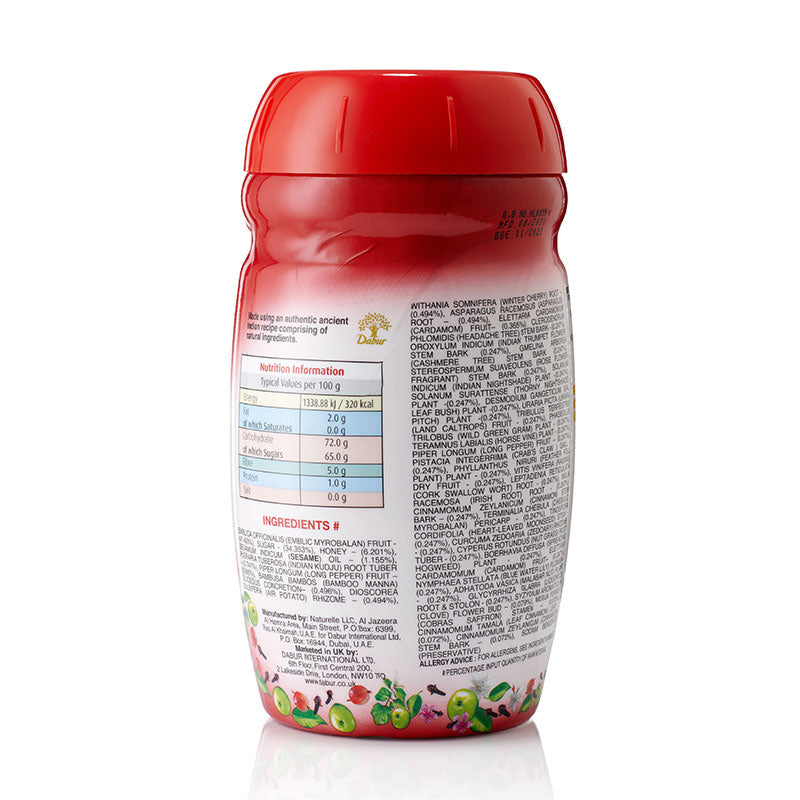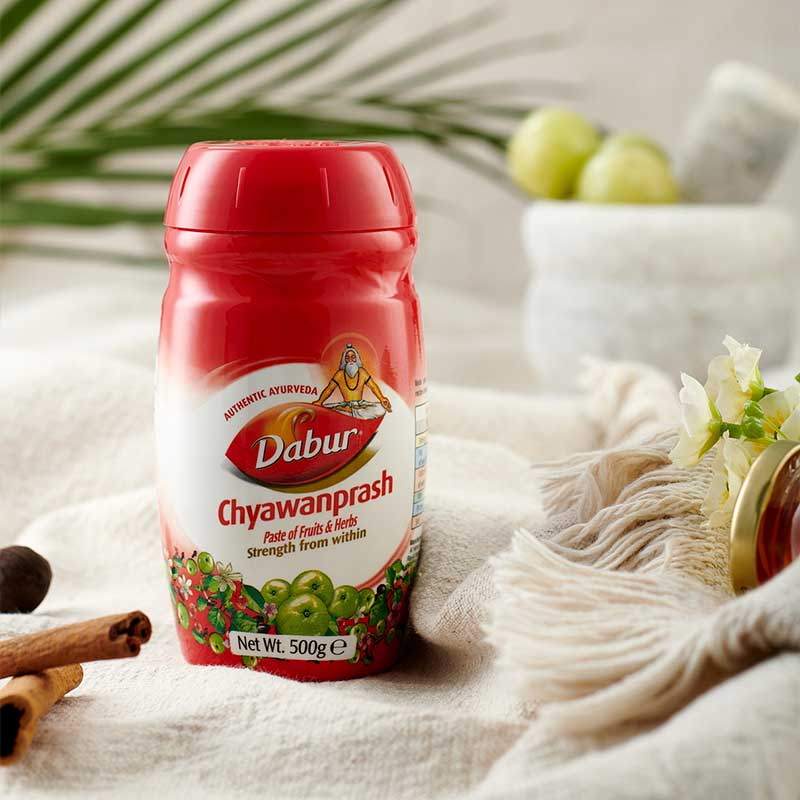 X
EMBLICA OFFICINALIS (EMBLIC MYROBALAN) FRUIT - (47.493%), SUGAR (34.353%) HONEY (6201%) SESAMUM INDICUM SESAME OIL-(1,155%) PUERARIA TUBEROSA (INDIAN KUDJU) ROOT TUBER-10741%), PIPER LONGUM (LONG PEPPER) FRUIT (0.695%) BAMBUSA BAMBOS (BAMBOO MANNA) SILICEOUS CONCRETION (0.496%), DIOSCOREA BULBIFERA (AIR POTATO) RHIZOME-(0.494%) WITHANIA SOMNIFERA (WINTER CHERRY) ROOT-(0.494%), ASPARAGUS RACEMOSUS (ASPARAGUS) ROOT- (0.494%) ELETTARIA CARDAMOMUM (CARDAMOM) FRUIT- 0.365%) CLERODENDRUM PHLOMIDIS (HEADACHE TREE) STEM BARK-(0.247%), OROXYLUM INDICUM (INDIAN TRUMPET FLOWER) STEM BARK (0247%), GMELINA ARBOREA (CASHMERE TREE) STEM BARK (0.247%), STEREOSPERMUM SUAVEOLENS (ROSE FLOWER FRAGRANT) STEM BARK (0.247% SOLANUM INDICUM INDIAN NIGHTSHADE PLANT -10.247%), SOLANUM SURATTENSE (THORNY NIGHTSHADE PLANT (0.247%), DESMODIUM GANGETICUM (SAL LEAF BUSH) PLANT -10.247%), URARIA PICTA (URARA PITCH) PLANT -10.247%) TRIBULUS TERRESTRIS (LAND CALTROPS) FRUIT (0.247%) PHASEOLUS TRILOBUS (WILD GREEN GRAMI PLANT- 10.247% TERAMNUS LABIALIS (HORSE VINE) PLANT (0.247%), PIPER LONGUM (LONG PEPPER) FRUIT - (0.247%) PISTACIA INTEGERRIMA (CRAB'S CLAW GALL (0.247%), PHYLLANTHUS NIRURI (FEATHER FOLL PLANT) PLANT - 0.247% VITIS VINIFERA (RAISINS) DRY FRUIT - (0.247%), LEPTADENIA RETICULATA (CORK SWALLOW WORT) ROOT-10.247%), INULA RACEMOSA (IRISH ROOT) ROOT (0.247%), CINNAMOMUM ZEYLANICUM (CINNAMON) STEM BARK-(0.247%), TERMINALIA CHEBULA (CHEBULIC MYROBALAN) PERICARP (0.247%), TINOSPORA CORDIFOLIA (HEART-LEAVED MOONSEED) STEM (0.247%), CURCUMA ZEDOARIA (ZEDOARY RHIZOME-(0.247%) CYPERUS ROTUNDUS (NUT GRASS) ROOT TUBER-(0247%), BOERHAVIA DIFFUSA (SPREADING HOGWEED) PLANT-(0247%), ELETTARIA CARDAMOMUM (CARDAMOM) FRUIT- (0.247%), NYMPHAEA STELLATA (BLUE WATER LILY) FLOWER. 0.247% ADHATODA VASICA (MALABAR NUT) PLANT - (0.247%), GLYCYRRHIZA GLABRA (LIQUORICE) ROOT & STOLON - (0.247%), SYZYGIUM AROMATICUM (CLOVE) FLOWER BUD-10.079%), MESUA FERREA (COBRAS SAFFRON STAMEN -10.072%), CINNAMOMUM TAMALA (LEAF CINNAMON LEAF - 0.072%), CINNAMOMUM ZEYLANICUM CINNAMON) STEM BARK (0.072%), SODIUM BENZOATE PRESERVATIVE) ALLERGY ADVICE: FOR ALLERGENS, SEE INGREDIENT IN BOLD.
Order
My order never arrived and despite 3 emails I have not had a response. Still waiting.
Not happy
Iam totally disappointed with the purchase with you I brought two 250 g bottle of chyawanaprash the expiry date is is end of this week (purchased last week)which is totally unacceptable. Pls check the expiry date before u pack the items. If u could kindly replace the item. I had purchased items before eith you but I don't had this type of experience
Sent product past their Best Before date
I ordered Dabur Chyawanprash and they sent product past their Best before date. Disappointed.